When I saw Shutterfly's Holiday Card promotion giving bloggers 50 free holiday cards I signed up right away. And that was as far as things got until this morning. I had Christmas ensembles laid out for each of us to wear and Goldie's Christmas party. Then Children's Hour was cancelled and that gave me the time I needed. Imagine my surprise when I logged into Shutterfly and saw that this promotion ends TONIGHT at midnight! Do I have good luck or what?
I have been a customer of Shutterfly for 8 years. I love their photobooks (Goldie really loves them), cards and invitations. I enjoy being able to pick and choose what I want online and not have to stand in the middle of store with 4 kids running circles around me. If I'm lucky. Sometimes, they just take off in straight line.
Here is our Christmas card from 2008: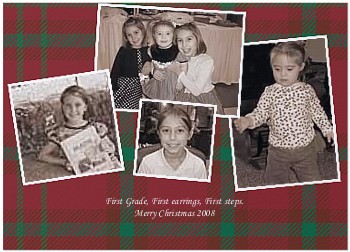 Here is a holiday card/birth announcement from last year. I just couldn't send out cards until all my children were here!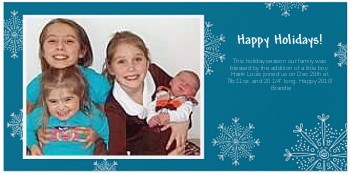 Family Snowfall Teal Christmas
I've been browsing this year's
Christmas cards
and here is what I'm looking at so far:
Sharing the Love
or
Our Shining Stars